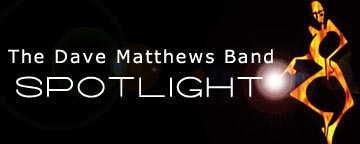 8-4-01
The return....
I'm back after somewhat neglecting the site. I would really love to updated everyday and
really try to make the website grow but I don't personally have enough time.
If you guys give me enough postive feedback, It will encourage me to continue.
Also, if you have any news or any information I could use, please e-mail it to me. It would be greatly appreciated.
Thanks.
DMB Spotlight Webmaster, steve

---
5-15-01
Set Lists page coming soon...
I'am currently working on a set list section for the 2001 summer tour. I will hopefully have it up
in the next few days. Check out what I have so far.
DMB Spotlight Webmaster, steve

---
Please vote for the DMB spotlight at the DMB top 50

---
Sorry about the banners, unless I make some money from them I can't get a (banner-free) domain name.